"Our bodies communicate to us clearly and specifically if we are willing to listen"
Thrive Myotherapy & Massage
Myotherapy is a branch of manual medicine focused on the treatment and rehabilitation of musculoskeletal pain and associated conditions.
The Myotherapists at THRIVE treat connective tissue (muscle, tendons, ligaments, joint capsules, fascia, etc) using an integrated and therapeutic approach, taking into account the physical, psychological and occupational aspects of the individual.
They assess and manage a range of common musculoskeletal conditions, acute and chronic. These may include but are not limited to: biomechanical issues, neuromuscular disorders & sports injuries.
Myotherapy plays an important role in reducing the risk of injury and can be used as a sole mode of treatment or in conjunction with that of other allied-health practitioners
Using a range of techniques, the therapists at THRIVE  provide a comprehensive approach to management, helping you return to your chosen activity, reducing your risk of re-occurrence and assist you in unlocking your potential to THRIVE.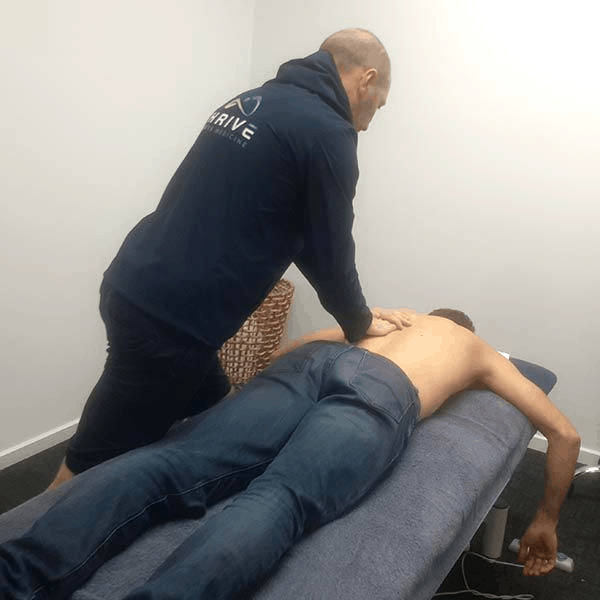 Myotherapy Treatments Include:
Sports Massage – Pre and Post event
Helps to prepare you for or recover from a sports event. Pre event massage is a more vigorous massage designed to warm up muscles assisting performance and reducing the risk of injury.

Post event massage focus on recovery and toxin elimination, using slower, gentler techniques.
Remedial Massage
A type of massage focused on reducing pain, stress, tension and improving mobility through the use of specific techniques.
Therapeutic Massage
A focused, deep tissue massage aiming to relieve sore, aching muscles.

Relaxation Massage
Uses calming, smooth flowing massage techniques to promotes total relaxation leaving you feeling refreshed and rejuvenated.
Dry Needling
Trigger Point Therapy
Cupping
Are you ready to unlock your potential and THRIVE?